[Sticky]

What is the Best Light for Growing Cannabis
There are many things to consider when it comes to choosing what is the best light for growing cannabis. Each one has its own benefits and downside.
Your budget should always be taken into account when buying a new grow light. Never buy cheap! Lighting is a major part of growing cannabis indoors. If the light is insufficient, your plants will not grow to their full potential. Spend as much as you can on good lighting and your plants will reward you with fatter flowers.
If you have any questions about which light you should use for your grow, then feel free to ask for help in our cannabis growers forum
What Lights Can You Use To Grow Cannabis?
Plants need light to photosynthesise. Without light, they will die. There are many types of lights you can use to grow cannabis, some are more suited to the cannabis plant than others. But as long as you provide enough lumens, the plant will grow.
Here is a list of lights you can use to grow cannabis:
CFL: Compact Fluorescent Lighting
T5 Fluorescent
LED: Light-emitting diode
COB: Chips on Board
Quantum Boards ( QB's)
CMH/ CDM: Compact Metal Halide/ Ceramic Discharge Metal Halide
Compact Fluorescent Lighting
CFL are a common household light that are cheap, and easily available. The output of lumens is high for the amount of watts it uses. It can be as high as 63 lumens per watt. Using a few of these in a small grow space, will be enough to grow a small cannabis plant, or to veg some seedlings. You would have to use many in order to offer enough light to really bring big flowers.
They are efficient, and you can grow a cannabis plant under CFL's. But to really make your grow the best it can be, you will need stronger lighting.
T5 Fluorescent Lighting
Typically used for small seedlings and cuttings, these lights are popular amongst cannabis growers. They have a very good light output to watt usage, making them more energy efficient than HID lighting. These lights are slowly becoming outdated now, as LED lights have slowly become more efficient.
LED, Light Emitting Diodes
LED lights have started leading the way with grow lighting. They are massively more efficient than HID, T5, and CFL lights. There are many brands that offer LED lights for growing cannabis, but most of them offer low standard lights that do not offer the right light spectrums for growing cannabis.
LED lighting can be very expensive, and it is a massive reason why growers tend to use other types of lighting. The running cost of these lights are very low compared to other grow lighting, so over time, your money will make its way back. But the initial investment can be huge!
To make sure you get the right kind of LED grow light for your cannabis grow, do some research! Ask around in the forum, and read some of our recommended LED guides. Only buy LED's you know are going to be good for growing cannabis. The initial investment is high, you do not want to invest in the wrong kind of lighting.
COB Lighting
COBs (Chips on Board) , is a new kind of LED lighting. Multi LED chips are packaged together as one lighting module. These are massively efficient and produce very little excess heat. They will become a great form of grow lighting in the future.
Quantum Boards
QB's are a brand new technology that has quickly become a favorite light amongst growers. It offers a great spectrum of light with an extremely low energy usage! Pulling around 100 watts from the wall will produce a massive 15,000 lumens in some of these models. The problem with these lights is the initial investment can be massive! The tech is new, and that comes at a cost, but because of the low energy consumption, they will soon pay for themselves with savings in energy costs.
This is the future of grow lighting, and if you can afford to make that investment then it is definitely a step you should take.
HID Lighting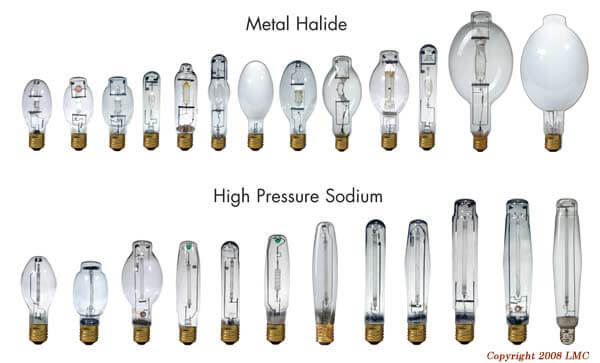 High intensity discharge lighting is the most common form of grow lights. They have been used for many decades by growers, and will bring you huge flowers, and fast growing plants. The down side to these lights is the energy consumption, and the heat output.
In the summer months, or if you live in a warm climate, growing can be difficult under HID lights as temperatures rise. You will need powerful extraction and plenty of airflow to grow under HID lighting.
A 600w HID bulb can push out a massive 95,000 Lumens! You will also change the bulb from a MH bulb, during veg, to a HPS bulb during flower. This offers your plants the spectrum of light they prefer, during certain stages of growth.
CMH/ CDM Lighting
CMH and CDM lighting are the same thing, by a different name. Ceramic Discharge Metal-halide and Ceramic Metal Halide. These lights are said to be up to 94% the same as daylight and are 10-20% more efficient than the traditional HID lights. The initial investment can be a little bit more than the standard HID lighting, but the energy savings will soon cover that cost, and the amount of heat produced is much less. This will make temperatures easier to manage.
Choosing which Grow Light is Best for Growing Cannabis
If you want to grow one plant, in a small space, then you might be able to use a few CFL's, and pull off a decent harvest. But to grow enough good cannabis to get you through to the next grow, you should invest in at least HID lighting for your grow space.
HID's are used by the majority of indoor growers. They are reliable, and can produce great yields, but they use a lot of energy, and produce a lot of heat. They are not ideal if you will be growing in a hot environment.
If you have a little extra in your budget, a good light to work with is the CMH! They are very efficient and offer a great spectrum of light to your cannabis plant. They produce less heat, and use less electricity than the HID lights.
Depending on how far your budget stretches, you may be able to afford a high end LED. Do not buy cheap when it comes to LED lights. If they are cheap, they are probably no good, and will not be suited to growing a cannabis plant. Spend as much as you can to get the best light for growing cannabis that suits your needs.
Percy Recommends
If money is no option, and you are looking for the best investment, the Quantum Boards are definitely a type of lighting you should look into. They are very efficient, and offer the best wavelength of light for the cannabis plant. Out of all of the crops I have seen, the ones under a quantum board have always been the healthiest. These lights are the future of growing, and if you can afford it, you should make that investment.
What is right for you will depend on your individual circumstances. If you need more help deciding what the best grow light is for you, then you can read about these lights in more depth in their own section of the website. You can also join our forum and ask experienced growers which light they think is best for growing cannabis!
Thanks for reading! You can find more information on anything related to growing in our cannabis grow guides. All of our guides are written by experienced growers, and members of our cannabis growers forum. If you have any questions, sign up. It is free, and we are always happy to help!
Good Luck with your grow! Stay safe, Happy Growing!
Please keep up to date with forum rules and posting guidelines to keep the forum tidy 🙂
Forum Rules
Posting Guidelines
Community Standards
"Keep away from people who try to belittle your ambitions. Small people always do that, but the really great make you feel that you, too, can become great."
― Mark Twain
I'm using an HLG 650 Scorpion R-Spec. I had a 650 Diablo but it was too strong. I couldn't get enough distance from my plants to get a decent size footprint. My room is short. I'm sure I could do as well but I need 30".  The R-Spec has quantum boards too but they are spread out, making the edge of my 4' x 4' very productive. I got a UV bar too. I can't say for sure if it's made a difference.  So hard to quantify scientifically. The Diablo was $1,100. The R-Spec was around $900. 
Find us on all social networks! Just search for Percys Grow Room