When a cannabis plant begins to suffer from health problems, the first thing new growers will assume is the problem is cal/mag deficiency. Calcium excess is common in new growers, that have fed too much calcium to their cannabis plants. You need to learn how to tell the difference between calcium excess and calcium deficiency. Over feeding your plant will cause lock out, and pH fluctuations, and long term damage to your plant.
If you think your plant is suffering with calcium excess, then feel free to ask for help in our cannabis growers forum
Effects of Calcium Excess in a Cannabis Plant
Too much calcium in your medium will cause calcium excess in your cannabis plant. The plant will eat too much calcium, which will "lock out" other important nutrients needed for plant growth. Your plant will be smaller, and have damaged leaves with red/ brown spots on them.
The uptake of potassium, magnesium and iron will be affected by an overdose of calcium. And you will also see signs of these deficiencies form. It will affect your plants growth all round, it is very important not to over feed your plants!
What Calcium Excess looks like
How to Fix A Calcium Excess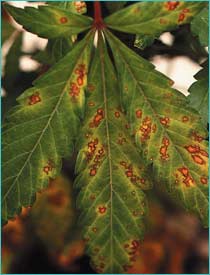 Like any excess nutrients problems, the process of fixing a calcium excess, will depend on what medium you are growing in. The damaged leaves will not fix themselves, and you should watch new growth for signs of improvements.
Calcium Excess in Coco & Hydro
Flushing your medium, with plain, pH'd water, is always a good way to reduce the amount of any nutrient in your medium.
Once you have flushed, or removed your old reservoir, feed your plants again, at half of their usual EC. This reduces the amount of calcium available to the plant, and it will start eating the stored up calcium inside of itself.
If you don't have an EC meter, and you're growing in hydro or coco, you will need one!
Calcium Excess in Soils
It will be harder to remove any element in soils than it would in hydro or coco, as the drainage isn't so good and you can risk over watering your plants. It is best to do one big flush, to remove as much as possible from the medium. After the flush, let the soil dry out until the pot is light before watering again.
Once the medium is dry, continue to water your plants, with just water! They will eat the calcium that is stored in their plant matter. The new growth will start looking much better a few days after flushing.
Avoiding Calcium Toxicity
Many new growers feed far too much calcium to their plants, and excess can happen easily. Before you adjust the feed of your cannabis plants, ask for advice! The amount of calcium you need to feed your plant will depend on the quality of the water you are giving them. Some will have higher traces of calcium in than others. This is you background EC, and it needs to be taken into consideration if you're feeding your plant from tap water. If you need help, ask in the grow room.
Thanks for reading! You can find more information on anything related to growing in our cannabis grow guides. All of our guides are written by experienced growers, and members of our cannabis growers forum. If you have any questions, sign up. It is free, and we are always happy to help!
Our forum is free to join. We are an international cannabis forum that helps people all over the world grow their own personal supply of cannabis. Through our site you will find cannabis breeding forums, cannabis deficiency forums, indoor cannabis growing forums, and much more.
We are a home growers cannabis forum, and we only allow people who grow cannabis for personal use to be members. Our mission is to help you grow your own cannabis. We do not buy/sell/trade cannabis, or equipment for growing cannabis. Our site is strictly a cannabis smokers forum, cannabis growers forum and forum for medical cannabis users.
Use our guides on how to grow cannabis, cannabis grow diaries, and growers forum to find all the info you need to learn how to grow your own cannabis.
Any member who is suspected of growing cannabis for commercial gains will be banned immediately.
Please read our forum rules, and enjoy the site.
Find us on all social networks! Just search for Percys Grow Room