Welcome to The Vault's British themed 420 promo for 2021 - Win Seeds On this Post.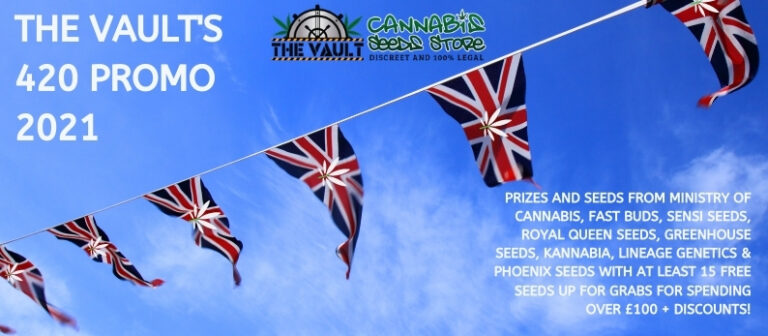 Hi All
Happy 420 folks (nearly).
We decided to do a British theme to let everyone know we are very much the same company as before Brexit making sure we get your seeds sent to the UK and most other countries of the World despite the challenges of coming out of the EU.
We have multiple things going on this year and with various prizes to be won. This year you can also win a prize on this forum post. Here's the details.
-Comment anything you like ON THIS FORUM POST to be in with a chance to win x10 Kannabia DIESEL GLUE FEM or x10 KRITIC AUTO'S - 1x10 pack prize per forum
-Win 10 Phoenix Seeds on This Blog Post 
-On the same post you will see deals for spending £50 / £75 & £100 at The Vault getting you a minimum of 15 free seeds not including on purchase promos - please note these free seed offers expire on midnight of 20/4/2021
-Look out for our discount code on there too
We want to say a BIG THANKS to the following seed brands for taking part: Ministry of Cannabis - Fast Buds - Sensi Seeds - Royal Queen Seeds - Greenhouse Seeds - Kannabia - Lineage Genetics - Phoenix Seeds - we appreciate their continued support!
Good luck everyone.
Please note due to how busy we will be over 420 we might not be able to respond to comments and questions immediately so bear with us on that.
Have fun & a great 420 when it comes.
*Freebie seed deals close on midnight of 20/4/2021 so be quick
**Forum promo will be announced on Wednesday 5th May
*** Vault blog promo will be announced on Tuesday 4th May
Gary Eff
Vault Marketing Guy
#TeamVault
George
The Vault Cannabis Seeds Store
https://www.cannabis-seeds-store.co.uk
Use discount code Percys15 for 15% discount
Our forum is free to join. We are an international cannabis forum that helps people all over the world grow their own personal supply of cannabis. Through our site you will find cannabis breeding forums, cannabis deficiency forums, indoor cannabis growing forums, and much more.
We are a home growers cannabis forum, and we only allow people who grow cannabis for personal use to be members. Our mission is to help you grow your own cannabis. We do not buy/sell/trade cannabis, or equipment for growing cannabis. Our site is strictly a cannabis smokers forum, cannabis growers forum and forum for medical cannabis users.
Use our guides on how to grow cannabis, cannabis grow diaries, and growers forum to find all the info you need to learn how to grow your own cannabis.
Any member who is suspected of growing cannabis for commercial gains will be banned immediately.
Please read our forum rules, and enjoy the site.
Find us on all social networks! Just search for Percys Grow Room