Comparative Grow: from Dutch Passion at The Vault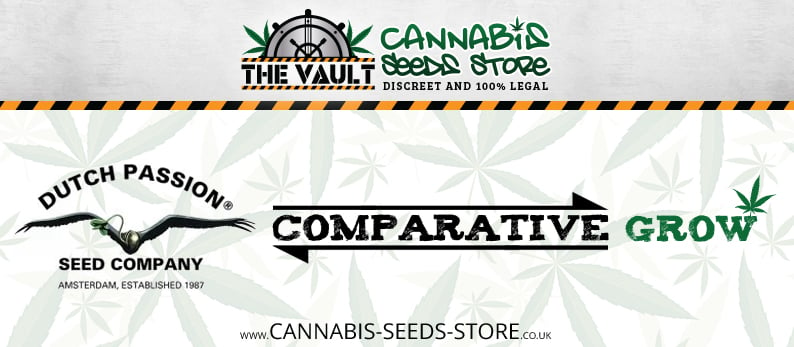 Hi Guys n Gals,
You may have seen our blog post on the Comparative Grow in partnership with Dutch Passion already?
The purpose of the comparative grow is for our breeders to have an opportunity to put some of their strains to the test by getting you to grow them out using your own methods and report back on the results.  It also allows an opportunity for growers of all levels of experience to come together and help each other learn new methods etc.
In order to enter the comparative grow you must follow all the instructions and agree to post pictures and comments about your grow to the relevant forum (this thread here). In return you will get free seeds, free shipping and a free Vault T Shirt!  You can take advantage of the free shipping and order some more seeds too if you wish.
This was originally available on other forums but Dutch Passion has kindly agreed to roll it out on Percys too for you to get involved as well! 
Massive thanks to Dutch Passion!
Please visit THIS POST and read the rules about how to enter.  However we wont be too strict on the entry requirements, we just want this filled up ASAP with a good representation of Percys Growers, so, as long as you promise to post your grow here from start to finish we will accept your entry.
George
The Vault Cannabis Seeds Store
https://www.cannabis-seeds-store.co.uk
Use discount code Percys15 for 15% discount
Topic starter
Posted : January 13, 2020 12:47 pm
In our cannabis growers forum, we have guides to growing cannabis, cannabis grow dairies that cover growing weed in hydroponics, soil and coco. Find the help you need, by either, using the search box, or asking for help in the forum.
Our cannabis growers website also has competitions where you can win free weed seeds. As a member you will also have discount codes for cannabis seeds, and LED grow Lighting.
Our Cannabis Growers Forum is for educational purposes and we encourage our members to check their country of residence legislation before germinating a marijuana seed.
This site is here because we want to help you grow your own cannabis for personal use. Therefore, any member who is suspected of growing cannabis for commercial gains will be banned immediately.
Please read our forum rules, and enjoy the site.
Find us on all social networks! Just search for Percys Grow Room