Get a FREE Gorilla Breath Fem with every pack of HSO purchased at The Vault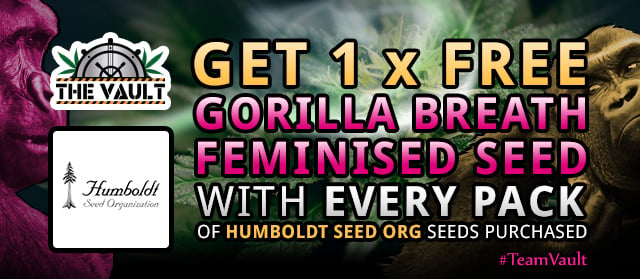 Buy any pack of Humboldt Seed Org Seeds and get a FREE Gorilla Breath Feminised Seed with EVERY pack purchased!
Visit the link to read more about HSO, Gorilla Breath Feminised and get a 15% discount code of all HSO Seeds:
This is of course on top of all the other Vault offers and deals HERE
The Vault are still dispatching orders. To view our latest Covid-19 status please visit this post
Stay Safe, Stay Blazed!
#TEAMVAULT
George
The Vault Cannabis Seeds Store
https://www.cannabis-seeds-store.co.uk
Use discount code Percys15 for 15% discount
Posted : March 26, 2020 3:08 pm
YES. HSO is the shit. I had some of their Gorilla Breath not so long ago actually... phenomenal stuff. The Vault's description of her is true to form, at least in the sample that I had. Very earthy, but leaning towards that chocolatey-side of flavourville. And strong...
Life's a garden...dig it - Joe Dirt
Supersoil recipe (by me!) --> https://percysgrowroom.com/organic-super-soil-recipe/
Posted : March 26, 2020 4:39 pm
Man, still don't understand why they came up with that name lmao, supposed to be an epic strain though
Support Percys by becoming a Patreon: patreon.com/percysgrowroom
Posted : March 26, 2020 6:25 pm
Lol yeah.. I know it's parentage is Gorilla Glue x OG Kush Breath, but I have no idea where the 'breath' genetics actually originate from. Apparently the OG Kush Breath is descended from the Cookies line out of Cali, but I have no idea if that's true. We have a local breeder in Canada, Jordan of the Islands, who has a bunch of Breath crosses as well, but they're from Thug Pug's line of gear so. Yeah. That doesn't help at all. 🤣 
Life's a garden...dig it - Joe Dirt
Supersoil recipe (by me!) --> https://percysgrowroom.com/organic-super-soil-recipe/
Posted : March 26, 2020 9:47 pm
In our cannabis growers forum, we have guides to growing cannabis, cannabis grow dairies that cover growing weed in hydroponics, soil and coco. Find the help you need, by either, using the search box, or asking for help in the forum.
Our cannabis growers website also has competitions where you can win free weed seeds. As a member you will also have discount codes for cannabis seeds, and LED grow Lighting.
Our Cannabis Growers Forum is for educational purposes and we encourage our members to check their country of residence legislation before germinating a marijuana seed.
This site is here because we want to help you grow your own cannabis for personal use. Therefore, any member who is suspected of growing cannabis for commercial gains will be banned immediately.
Please read our forum rules, and enjoy the site.
Find us on all social networks! Just search for Percys Grow Room