Tropicanna Banana NOW LIVE at The Vault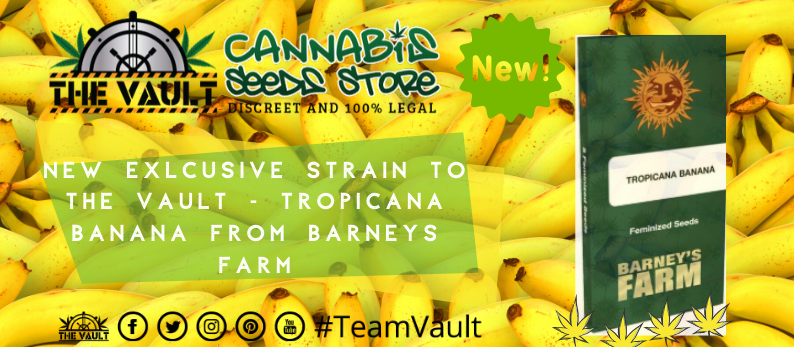 Tropicanna Banana from Barneys Farm are NOW LIVE as promised at The Vault Cannabis Seeds Store as a freebie on all orders over £50; this is on top of all our other freebies of course.
This is your chance to be one of the first to try this amazing new strain.
You cannot buy these anywhere yet, not even at Barney's Farm
Check out this post for more details - https://www.cannabis-seeds-store.co.uk/Cannabis-Seeds-News/barneys-farm-tropicanna-banana-only-available-at-the-vault
Of course we have a promo live too in the post where you can win 10 x Tropicanna Banana so check it out now!
George
The Vault Cannabis Seeds Store
https://www.cannabis-seeds-store.co.uk
Use discount code Percys15 for 15% discount
Topic starter
Posted : November 21, 2019 6:22 pm
Sounds delish...another one added to the list...cheers George yet again 😉
Posted : November 21, 2019 6:32 pm
Yeah they sound good i will have to add these to my basket at some point 
"I know you don't smoke Weed, I know This; but I'm gonna get you High Today,'cause it's Friday.... An you ain't got shit to Do." - Smokey
Posted : November 21, 2019 6:39 pm
I love the sound of this strain man, and anything from Barneys is always good. I need some of these beans in y collection today!! lol
Posted : November 22, 2019 9:42 am
Wow! What an exclusive ? they sound amazing as well ?
Posted : November 23, 2019 7:20 pm
In our cannabis growers forum, we have guides to growing cannabis, cannabis grow dairies that cover growing weed in hydroponics, soil and coco. Find the help you need, by either, using the search box, or asking for help in the forum.
Our cannabis growers website also has competitions where you can win free weed seeds. As a member you will also have discount codes for cannabis seeds, and LED grow Lighting.
Our Cannabis Growers Forum is for educational purposes and we encourage our members to check their country of residence legislation before germinating a marijuana seed.
This site is here because we want to help you grow your own cannabis for personal use. Therefore, any member who is suspected of growing cannabis for commercial gains will be banned immediately.
Please read our forum rules, and enjoy the site.
Find us on all social networks! Just search for Percys Grow Room